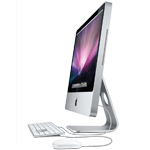 Introduction
Mac-n-Scott Solutions is Wichita's comprehensive source for all of your Macintosh needs. My name is Scott Weierich and I am an Apple Certified Help Desk Specialist (ACHDS) and a certified member of the Apple Consultants Network since 2001. I am listed on Apple's website as a local Macintosh expert and I have helped literally hundreds of local clients, both business and home users, with their Macintosh needs since 1998. No one else in Wichita possesses the same combination of extensive technical knowledge, expert trouble-shooting techniques, and passion for Macintosh computers and related technologies that I do.
Services and Solutions
Mac-n-Scott Solutions provides all aspects of service for your Mac:
Sales
Support/Troublshooting
Data recovery, data migration
Upgrades
Networking
Training
Yes, we also speak "Windows"
I also provide presale consulting for those shopping for new Macs and I can order and set up your new Macintosh computer as well as any software & accessories you need to complete the package.

Mac-n-Scott Solutions provides service for both residential and commercial clients and there is no project too large or too small for me to tackle. For years I have been providing trusted service to local schools, print and design shops, attorneys, real-estate agents, video-production houses, doctors, graphic designers, engineers, grandmothers, and college students.

Please contact me at 316.208.3222 or via e-mail to discuss your needs and to schedule an appointment.
Customer Testimonials
"As the business director for a private school, I can tell you that when we have difficulties with our Macs, it is a problem that we want resolved as soon as possible. We rely on Scott Weierich of Mac-n-Scott Solutions because he is prompt to respond, he is reliable, and he knows how to solve our problems. I have no qualms recommending Scott to anyone who needs help with a Mac."
-Jane Collins, Wichita Montessori School


"I've used Mac-n-Scott for all of our networking, trouble-shooting and repair for more than ten years. Scott has always impressed me with his knowledge and ability to help me with the challenges that pop up from time to time concerning our Mac equipment. Running a creative design company means we work with hot deadlines on a day-to-day basis. And with our hectic schedule I need someone who can solve problems and free me up to do the creative work that I'm paid to do. Scott IS that guy...and quite frankly his services have been invaluable. I continue to recommend Mac-n-Scott to all my peers as well as clients who run Mac systems."
-Dave Allen, Dunn Allen Design, Inc.